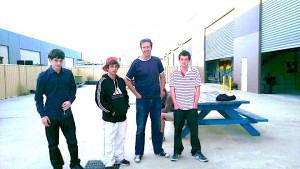 I just got back from the most emotional Year 12 high school graduation ceremony I have ever attended (and I have attended a fair few over the years). In this case, only seven students graduated. It was a small, very modest affair but it felt like family. It happened at the school I left last year to start my studies and in which I have described a number of times.
The three young people (pictured above) of the class of about a dozen I started with back in Year 10 finished today too. Against massive odds, they persisted with it and they leave not only with a leaving certificate but on the verge of pre-apprenticeship at local businesses. The angry, lashing, shy, often off the rails boys put on their best tonight and with a bit of  swagger (compulsory in this part of town) and a touch of unintended blush accepted their certificates plus a couple of special awards.
During the speeches, the staff, the parents and many of the kids were in tears. They, no … we, broke down at times in acknowledging just how hard these kids and with them the entire school community have had it. Drugs, break ups, alcohol, pregnancies, abuse, suicides, low expectations, miscarriages, school upheavals, disappointments, homelessness, hopelessness (and that's on top of just being a teenager) – they, we saw it all. Well, we had some great times too.
Before the ceremony we talked about the importance of relationships.  One of the colleagues remarked: "I had an epiphany – I realised why the kid who was the most painful, giving me the most grief, kept coming day in day out, more than the 'good kids'. He needed and got a relationship." During her speech, another colleague broke down describing her relationship with a young girl, whom she nurtured and stuck with for three years through some truly awful times no person, young or old, should go through. In the students' farewell speech, this very colleague was addressed with the following words: "She started as a teacher, she ended as a friend." And more … Without relationships, schools are empty shells. Neat but empty.
Dear reader, I am not making this up. These were genuine thanks after years of genuine listening, caring, swimming together in good and bad, not some nice, well-intended and ultimately so ugly middle-class salvationism.
Now, I've mentioned before that I work with pre-service teachers at uni these days. Many of them included the phrase "want to make a difference" in their answers to the question: why do you want to become a teacher? And I always, always invite them to really examine what that means and what is the cost they are prepared to pay for their idea of difference.
There's a big difference between a student saying 'thanks for helping me to get better grades' and a student thanking a teacher, both in tears, for helping them first to survive and then to become a better person. If you want the latter, I invite anyone to go and work in a school that is perhaps called 'hard to staff' or where the 'no good' kids go.
Because I tell you – you will remember it. Forever.
– Dedicated to the wonderful colleagues, educators at SMYL Community College –